Hi
Does anyone know how to amend an application once you have been through and got to the SOT part?
Any help and tips appreciated
Yours sincerely
Sue Standing
Mrs Sue Standing
Probate Manager
Five Property Lawyers Limited
During the period of lockdown, our office will only be open between the hours of 9.30am and 3pm Monday to Fridays; attendance will be by appointment only, access will be restricted for the time being. We apologise for any inconvenience this causes.
We are receiving a high number of telephone calls and e-mails every day and we will endeavour to respond to any communication as soon as possible; Please note postal communications, faxes and emails are treated in the same manner and processed according to date of receipt.
Over recent months we have seen a surge in conveyancing transactions and as a result, we are extremely busy. All staff at Five Property Lawyers are working extremely hard in order to progress matters and achieve desired completion dates. All matters are important to us and we are doing all we reasonably can to ensure that all files are reviewed and progressed where necessary; however, we do have to prioritise upcoming completions.
To ensure that we can meet client expectations we would respectfully ask you to:
Not to chase by telephone or e-mail unless absolutely necessary. Constantly having to provide updates will slow the process down for everyone. We will only chase third parties where it is reasonable to do so, and certainly no more than once a week, unless the matter is extremely urgent.

Understand that we will not always be able to respond to phone calls and e-mails the same day that communication is received. If you have e-mailed or telephoned once, you do not need to ring or e-mail us again to find out when we will be responding to you. Your telephone call / e-mail has been logged and we will get back to you as soon as possible. We may also need to liaise with third parties before coming back to you in any event.

Understand that due to the current Covid-19 pandemic not all firms are working to full capacity – this includes solicitors, estate agents, local authorities, Land Registry. As a result, there may be delays in your transaction which we appreciate can be frustrating, but due to third party involvement there are many things outside of our control.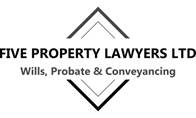 5 SEAGROVE AVENUE, HAYLING ISLAND,
HAMPSHIRE, PO11 9EU
T: 023 9263 6882/023 9246 5931
F: 023 9246 8349
E: s.standing@fivepropertylawyers.co.uk
mail@fivepropertylawyers.co.uk
Service by Fax or E-Mail not accepted
Regulated by the Council for Licensed Conveyancers. Company Registration Number 07465837
Practice Licence Number 11186
Director: Laura Woodward Licensed Conveyancer/Commissioner for Oaths Licence Number 2151
This e-mail and any accompanying documents are strictly confidential and sent for the personal attention of the addressee. The message may contain information which is privileged. Unauthorised use is strictly prohibited and may be unlawful. If you are not the intended addressee you must not copy, disclose or otherwise use this message. If you have received this message in error please notify us immediately by return e-mail to mail@fivepropertylawyers.co.uk
IMPORTANT NOTICE: CYBERCRIME ALERT!
As a result of the increased risk posed by cyber fraud and especially those relating to bank account details, please note that Five Property Lawyers Limited bank account details will NOT change during the course of a transaction. Please be vigilant and ensure caution is exercised when opening any emails, attachments or links and when responding to any requests for your bank account details. We will not accept responsibility if you transfer money into an incorrect bank account.