Dear all, I am wondering if anyone has had this issue today.
I am in the process of submitting NRCGT return for a property that was held by a non-resident trust.
The conveyancing date was 11th Aug 2017, to I need to submit this by 10th Sept 2017 at the latest.
On 31st Aug, I filled out the return on the screen, the form included tax year 2017-18. But it was one of those forms (HMRC structured email type ones) that I could not save the data. I saved and sent the PDF version of the form before closing the page to the trustee to sign and approve. They have now sent the signed return back. I just went back to the NRCGT return page (link below) to fill the form out again and submit.
https://www.tax.service.gov.uk/shortforms/form/NRCGT_Return
And now don't see the option for tax year 2017-18. (see where the arrow is in the screenshot below)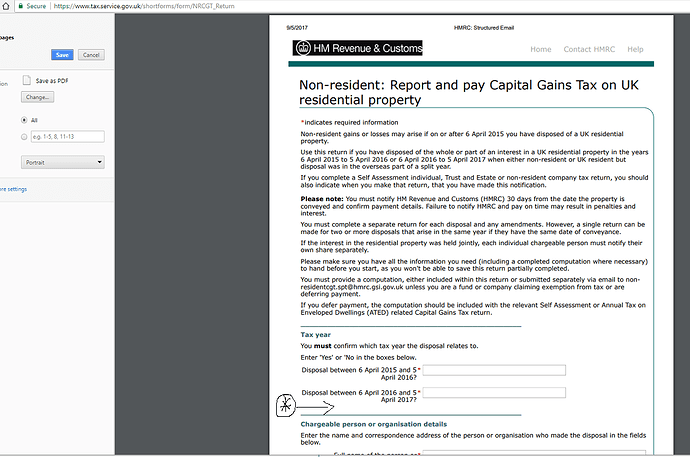 PDF saved on 31st Aug 2017 (disposal between 6/04/17 and 5/04/18 is there.

is there a different link to NRCGT return for 2017-18?!
I have emailed HMRC on the following email address: non-residentcgt.spt@hmrc.gsi.gov.uk
to ask for a correct link.
Sameera Nathoo